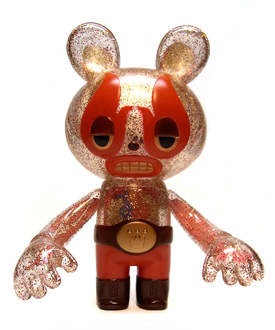 Red Devil Lucha Bear
Itokin Park — Friday 11am
Itokin Park makes some of the most unique vinyl figures today. With his signature style, Itokin Park has managed to make his mark in both resin and vinyl, creating several incredibly popular characters. His first figure made by his own toy company, Lucha Bear, the Red Devil version is various tones of red on a clear based vinyl filled with red and silver glitter and custom designed paper inserts.
Available Friday at noon until sold out. $65 ea.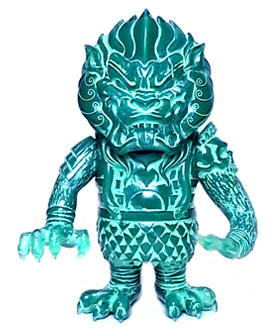 Jade Mongolion
L'amour Supreme — Friday 3pm
Designed by L'amour Supreme and sculpted by Como Liquid for the Sankes of Infinity Line of charaters, Jade Mongolion may just be what the Terracotta Warriors have been protecting for centuries. Cast in a slithery translucent green vinyl mixed with opaque green vinyl, before hand brushed and painted, this figure is just as precious and complex as its namesake. Be careful crossing borders with this figure because nobody is going to believe it is made out of vinyl.
Available all days. $65 ea.