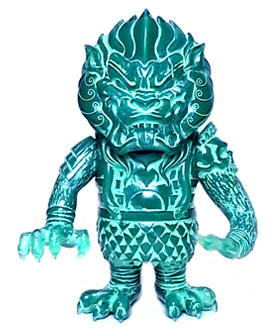 Jade Mongolion
by L'amour Supreme
Designed by L'amour Supreme and sculpted by Como Liquid for the Sankes of Infinity Line of charaters, Jade Mongolion may just be what the Terracotta Warriors have been protecting for centuries. Cast in a slithery translucent green vinyl mixed with opaque green vinyl, before hand brushed and painted, this figure is just as precious and complex as its namesake. Be careful crossing borders with this figure because nobody is going to believe it is made out of vinyl.
Available all days. $65 ea.
P.G.I.D. Mummy Boy
by Brian Flynn
Super7's mascot is back again, although I am not sure he remembers why. Still looking for his lost arm, he will be searching Old Town all night looking for any clues. Cast in a newly developed (and exclusive) Super7 vinyl, Mummy Boy is solid pink vinyl that glows green in the dark. Day or night, this latest Mummy Boy will haunt your dreams—day or night.
Available all days. $50 ea.
Glitter Ooze Bat
by Chanman
Another first in technical production, Chanmen's slippery sludge monster, Ooze-Bat, is back. This Snakes of Infinity series kaiju is made in clear vinyl filled to the max with as much metallic silver glitter as we could fit inside the figure. Disco may be dead, but Ooze-Bat has risen again.
Available all days. $50 ea.
Green Gorilla Biscuits
from their debut 7" cover
"Better watch out, better be scared!" Seminal hardcore and straight-edge band Gorilla Biscuits teams up with Super7 once again for the final release of the figure based on their debut 7" cover. A tribute to the 12" G.I. Joe figures of the 1970's, heavily collected by Civ as well as many of the early Revelation records staff, the figure is cast in army green vinyl and comes packaged in a wooden footlocker with wraparound art of the Gorilla up to his elbows in urban warfare.
Available all days. $65 ea.
G.I.D. Franken(berry)fighter
by Brian Flynn
One of the longest running collaborations out there, the Super7 x Secret Base Frankenfighter is back for this year's con. A tribute to the the colorway of classic monster cereal madman Franenberry but twisted with a special glow-in-the-dark vinyl that shows up bright blue in the dark, this Frankenfighter is a must have for all classic kaiju collectors.
Available all days. $65 ea.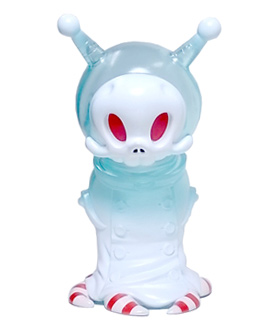 Big Sal
by Kathie Olivas & Brandt Peters
Having two creators, Kathie Olivas and Brandt Peters, makes Big Sal one of the more eccentric members of Monster Family. Donning straightjacket and space helmet Big Sal is just as likely to have escaped from the asylum as the mother ship. Cast in clear blue vinyl with faded white spray and candy cane tentacles Big Sal is terminally attractive.
Available on Thursday at 3pm,
until sold out. $25 ea.
Magenta Massacre Hollis
by Le Merde
If you don't know about Zeu by now, I feel sorry for you. The enigmatic leader of Zeu (the greatest rock band in the world) and former tennis pro Hollis Price knows how to make a racket with or without his racquet. Now is your chance to get to know Hollis better.
Available all days. $25 ea.
Citrus Steven the Bat
by Bwana Spoons
Back again for the first time, Bwana Spoons' first figure and Super7 classic toy has finally returned! Ready for his encore, Softcrusher's resident drummer and jelly bagel addict, Steven the Bat has just flown in for summer, and brings with him the colors of the season.
Available all days. $25 ea.
Vampire Rose
by Josh Herbolsheimer
From beneath the soil, the seed of terror is growing, and the Vampire Rose is born! The first minion of a hostile Earth stalks among the living, destined to reclaim the planet from those who would plunder and pollute it. Be not fooled by the appearance of this cute little sprout, for he is surely a harbinger of doom to come.
Available only in the white unpainted set at the Monster Family signing on Saturday.
(prototype shown.)
Glow-in-the-dark Milton
by Brian Flynn
The latest spirit to arrive from Ghost Land, Milton is the first of the candy characters set to arrive later this year. Milton materializes in one of Super7's signature colorways, a glow-in-the-dark vinyl with blue and red spray. The first painted release of Milton, stop by for your taster of this sweet little surprise.
Available all days. $15 ea.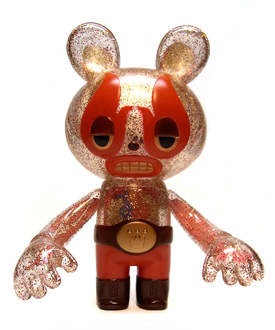 Red Devil Lucha Bear
by Itokin Park
Itokin Park makes some of the most unique vinyl figures today. With his signature style, Itokin Park has managed to make his mark in both resin and vinyl, creating several incredibly popular characters. His first figure made by his own toy company, Lucha Bear, the Red Devil version is various tones of red on a clear based vinyl filled with red and silver glitter and custom designed paper inserts.
Available Friday at noon until sold out. $65 ea.
Skulletor Dokurocks
by Skull Toys
Japanese manufacturer Takeuchi-Yu and Skull Toys are back with a great rendition of his classic Dokurocks mini figure. Colored up in the signature Super7 Skulletor colorway, this blue and yellow mini sized marvel is not to be missed.
Available all days. $45 ea.